Migrate from pfSense® CE software to Netgate pfSense Plus software¶
Netgate now offers the ability to migrate from the Community Edition (CE) of pfSense® software to pfSense Plus software.
This enables users with virtual machines or hardware not sold by Netgate to utilize the advantages of pfSense Plus software.
pfSense Plus Software Migration Procedure
To perform this migration:
The firewall must be running pfSense CE software version 2.6.0 or later.

Before starting, take one of the following steps:

Perform fresh install of at least pfSense CE software version 2.6.0 by following the installation guide.

Upgrade an existing installation of pfSense CE software to version 2.6.0 or later by following the upgrade guide.

The firewall must be connected to the Internet to perform the migration.
Warning
The migration process preserves the existing filesystem type, so ensure that a firewall is in the intended state before upgrading. For example, install pfSense CE software using ZFS so that it can use pfSense Plus software with ZFS.
Activation tokens are generated by the Netgate Store. To obtain a token, follow these steps:
After completing the checkout process the store will send an activation token by e-mail to the address on the Netgate Store account.
Tip
If the activation e-mail does not arrive in a timely manner, check spam or junk mail folders in the e-mail client.
Warning
Activation tokens are single use. Ensure the pfSense CE software installation is functional and is in the intended configuration before performing the migration.
Navigate to System > Register in the pfSense CE software GUI

Paste the Activation Token into the text area on the page

Click Register

The page will display a message indicating the registration results. If the registration was successful, continue. If registration failed, contact Netgate TAC.

Navigate to System > Update

The page will contain a message announcing the pfSense Plus software migration branch.

Set Branch to pfSense Plus Upgrade as seen in figure pfSense Plus Software Branch Selection.

Wait for the firewall to complete the update check

Click Confirm to confirm and start the migration process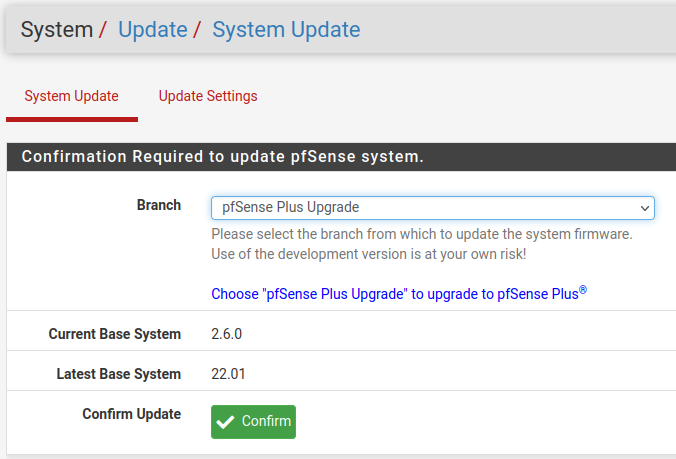 The migration process will proceed from there and reboot when it is complete. This may take several minutes to complete, especially in locations with slow download speeds. Monitor the console for progress.
Warning
Do not manually reboot or remove power from the device until the migration completes as this may interrupt the process and cause it to fail.
Congratulations, the firewall is now running pfSense Plus Software!