Accessing IPMI and Changing IPMI Password¶
Note
By default, the IPMI port is configured to be a DHCP client. When connected to a network with DHCP, the IP address will appear in the lower right corner of the screen during boot.
In compliance with new privacy legislation, the Username and Password to access the IPMI port on the Netgate 1537 1U has been changed to a unique password on each device. Netgate started shipping systems with this change beginning February 21, 2020.
Prior to February 21, 2020, the IPMI Username and Password were ADMIN/ADMIN.
After February 21, 2020, the IPMI Username is still ADMIN, the password is located on a sticker on the bottom of the Netgate 1537 as shown below.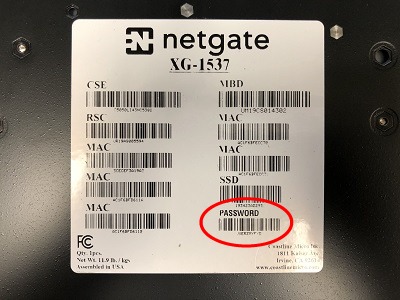 Note
The password is alpha-numeric and the letters are capital letters.
IPMI Web Console¶
To change the IPMI password in the web console:
Begin by accessing the IPMI GUI using a web browser and the IPMI IP Address. Log in to the IPMI console.

Navigate to Configuration > Users.

Highlight the Administrator and click Modify User.

Check the box by Change Password, enter the new password and confirm it by typing it a second time, then click Modify.

Click OK on the message window that says "Modified user successfully."
ipmitool¶
If the IPMI web interface in unavailable, ipmitool is packaged with pfSense software by default and can be used to change the password through the pfSense GUI or console/SSH shell as the root user.
Navigate to Diagnostics > Command Prompt and load the IPMI kernel module. Enter the following command and click Execute:

List the IPMI users available. By default, Netgate appliances use the user name ADMIN.

Warning

The username is case-sensitive.

The command will return a list of users, for example:

ID  Name             Callin  Link Auth  IPMI Msg   Channel Priv Limit




1                    true    false      false      Unknown (0x00)




2   ADMIN            true    false      false      Unknown (0x00)




3                    true    false      false      Unknown (0x00)




4                    true    false      false      Unknown (0x00)




5                    true    false      false      Unknown (0x00)




6                    true    false      false      Unknown (0x00)




7                    true    false      false      Unknown (0x00)




8                    true    false      false      Unknown (0x00)




9                    true    false      false      Unknown (0x00)




10                   true    false      false      Unknown (0x00)




Reset the password for the necessary user. The default ADMIN user will be User ID 2, and the example below sets the password to NETGATE.

ipmitool user set password 2 NETGATE




Warning

This password is for example purposes only. Use a secure password.

If successful, the output will be:

Set User Password command successful (user 2)




Unload the IPMI kernel module: