Input and Output Ports¶
Front Side¶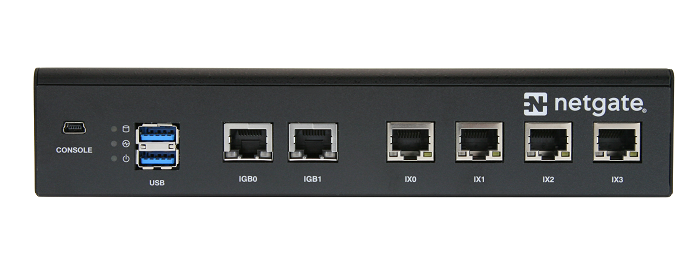 Ethernet Ports¶
| Interface Name | Port Name | Port Type | Port Speed |
| --- | --- | --- | --- |
| WAN | IGB0 | RJ-45 | 1 Gbps |
| LAN | IGB1 | RJ-45 | 1 Gbps |
| | IX0 | RJ-45 | 1 Gbps |
| | IX1 | RJ-45 | 1 Gbps |
| | IX2 | RJ-45 | 1 Gbps |
| | IX3 | RJ-45 | 1 Gbps |
¶

Status LED

State

Description

Solid Amber

Link has been established and there is no activity on this port

Blinking Amber

Link has been established and there is activity on this port

Off

No link has been established

Solid Green

Operating as a 100 Mbps connection

Blinking Amber

Operating as a Gigabit connection (1000 Mbps)

Off

No link has been established
Note
All Ethernet ports of the Netgate® appliance support auto-MDIX and are capable of utilizing either straight-through or crossover ethernet cables.
Warning
The ix(4) driver used prior to pfSense® Plus 21.02 for ports IX0-IX3 does not support ALTQ traffic shaping directly. Limiters may be used instead, or use tagged VLAN interfaces which can be used with ALTQ traffic shaping.
Other Ports and Indicators¶
Console (Mini-USB)

Status LEDs

2x USB 3.0
Status LED

State

Description

Top LED

Blinking Amber

Add-on storage activity (does not show eMMC activity)

Middle LED

Solid Green

System booted

Blinking Green

Software update available

Solid Red

Halted or in the process of booting

Blinking Red

Running update process

Bottom LED

Solid Green

Power
Rear Side¶

Recessed Reset Button (performs a reset to factory default)

Power Button (powers system on, performs graceful shutdown)

Power
12VDC with threaded locking connector

Power Consumption 7W (idle)

Center Pin Positive
Note
The power button on the SG-5100 has been programmed to perform a graceful shutdown when depressed.
The reset button is only used to reset the system back to factory defaults. It does not respond when pushed while the system is running.