Input and Output Ports¶
Front Side¶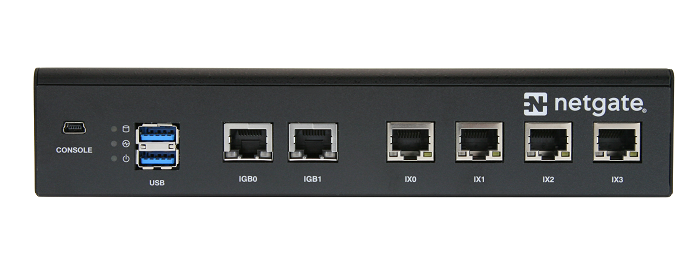 Ethernet Ports¶
| Interface Name | Port Name | Port Type | Port Speed |
| --- | --- | --- | --- |
| WAN | IGB0 | RJ-45 | 1 Gbps |
| LAN | IGB1 | RJ-45 | 1 Gbps |
| | IX0 | RJ-45 | 1 Gbps |
| | IX1 | RJ-45 | 1 Gbps |
| | IX2 | RJ-45 | 1 Gbps |
| | IX3 | RJ-45 | 1 Gbps |
Note
The ix(4) network interfaces on this device do not support fixed speed operation. These interfaces emulate a speed/duplex choice by limiting the values offered during autonegotiation to the speed/duplex value selected in the GUI.
When connecting different devices to these interfaces the peer should typically be set to autonegotiate, not to a specific speed or duplex value. The exception to this is if the peer interface has the same limitation, in which case both peers should select the same negotiation speed.
¶

Status LED

State

Description

Solid Amber

Link has been established and there is no activity on this port

Blinking Amber

Link has been established and there is activity on this port

Off

No link has been established

Solid Green

Operating as a 100 Mbps connection

Blinking Amber

Operating as a Gigabit connection (1000 Mbps)

Off

No link has been established
Note
All Ethernet ports of the Netgate® appliance support auto-MDIX and are capable of utilizing either straight-through or crossover Ethernet cables.
Other Ports and Indicators¶
Status LEDs

2x USB 3.0 Ports
USB Ports¶
USB ports on the device can be used for a variety of purposes.
The primary use for the USB ports is to install or reinstall the operating system on the device. Beyond that, there are numerous USB devices which can expand the base functionality of the hardware, including some supported by add-on packages. For example, UPS/Battery Backups, Cellular modems, GPS units, and storage devices. Though the operating system also supports wired and wireless network devices, these are not ideal and should be avoided.
LED Patterns¶
Status LED

State

Description

Top LED

Blinking Amber

Add-on storage activity (does not show eMMC activity)

Middle LED

Solid Green

System booted

Blinking Green

Software update available

Solid Red

Halted or in the process of booting

Blinking Red

Running update process

Blinking Red/Green

Factory Reset in process

Bottom LED

Solid Green

Power
Rear Side¶

Recessed Reset Button (performs a reset to factory default)

Power Button (powers system on, performs graceful shutdown)

Power
12VDC with threaded locking connector

Power Consumption 7W (idle)

Center Pin Positive
Note
The power button on the SG-5100 has been programmed to perform a graceful shutdown when depressed.
The reset button is only used to reset the system back to factory defaults. It does not respond when pushed while the system is running. See Factory Reset Procedure.