pfSense Plus Overview¶
This page provides an overview of the pfSense® Plus dashboard and navigation. It also provides information on how to perform frequent tasks such as backing up the pfSense® Plus software and connecting to the Netgate firewall console.
The Dashboard¶
pfSense® Plus software is highly configurable, all of which can be done through the dashboard. This orientation will help to navigate and further configure the firewall.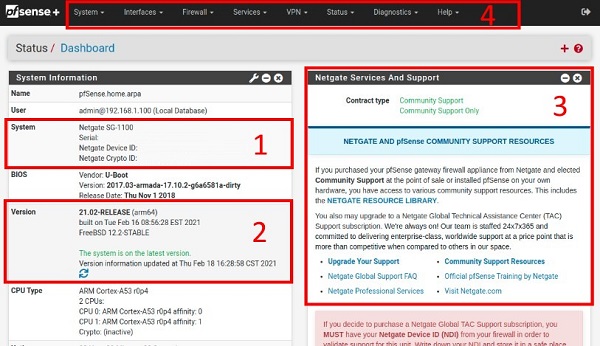 Section 1 shows important system information such as the model, Serial Number, and Netgate Device ID for this Netgate firewall.
Section 2 identifies what version of pfSense® Plus software is installed, and if an update is available.
Section 3 describes Netgate Service and Support.
Section 4 shows the various menu headings. Each menu heading has drop-down options for a wide range of configuration choices.
Re-running the Setup Wizard¶
To re-run the Setup Wizard, navigate to System -> Setup Wizard.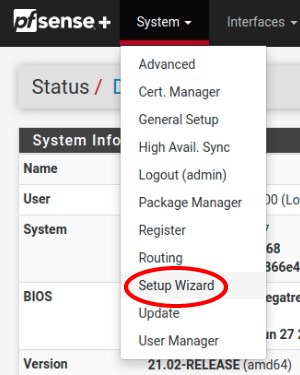 Backup and Restore¶
It is important to backup the firewall configuration prior to updating or making any configuration changes. From the menu at the top of the page, browse to Diagnostics > Backup/Restore.
Click Download configuration as XML and save a copy of the firewall configuration to the computer connected to the Netgate firewall.
This backup (or any backup) can be restored from the same screen by choosing the backed up file under Restore Configuration.
Note
Auto Config Backup is a built-in service located at Services -> Auto Config Backup. This service will save up to 100 encrypted backup files automatically, any time a change to the configuration has been made. Visit the Auto Config Backup page for more information.
Connecting to the Console¶
There are times when accessing the console is required. Perhaps GUI console access has been locked out, or the password has been lost or forgotten.
See also
Connect to the console. Cable is required.