Input and Output Ports¶
Rear Side¶

Routed Ethernet¶
| Interface Name | Port Name | Port Type |
| --- | --- | --- |
| WAN | mvneta2 | RJ-45 |
| | mvneta0 | RJ-45 |
¶

| LED Pattern | Description |
| --- | --- |
| Left LED only green | Flashes with 1Gb traffic, solid with link. |
| Both LEDs green | Both flash with 100Mb traffic, solid with link. |
| Right LED only green | Flashes with 10Mb traffic, solid with link. |
Switched Ethernet¶
| Interface Name | Port Name | Port Type |
| --- | --- | --- |
| LAN1 | mvneta1 | RJ-45 |
| LAN2 | mvneta1 | RJ-45 |
| LAN3 | mvneta1 | RJ-45 |
| LAN4 | mvneta1 | RJ-45 |
¶

| LED Pattern | Description |
| --- | --- |
| Both LEDs green | Left Flashes with 1Gb traffic, solid with link. |
| Left LED only green | Left flashes with 100Mb traffic, solid with link. |
| Right LED only green | Left Flashes with 10Mb traffic, solid with link. |
Note
Prior to pfSense® software version 2.4.3, the switched Ethernet ports on the SG-3100 did not support auto MDI-X and required crossover cable unless the client-side connection supported auto MDI-X. This was resolved with 2.4.3 and later versions and a crossover cable is no longer required.
Warning
The LAN ports do not support the Spanning Tree Protocol (STP). Two or more ports connected to another Layer 2 switch, or connected to 2 or more different interconnected switches, could create a flooding loop between the switches. This can cause the router to stop functioning until the loop is resolved.
Other Ports¶
Power

12VDC 3.33A with threaded locking connector

Power Consumption 5W (idle)

Recessed Reset Button (performs a hard reset, immediately turning the system off)

USB 3.0

Micro SIM

Console (Mini-USB)
Warning
A hard reset of the system could cause data corruption and should be avoided. Halt or reboot the system through the console menu or the webConfigurator to avoid data corruption.
Front Side¶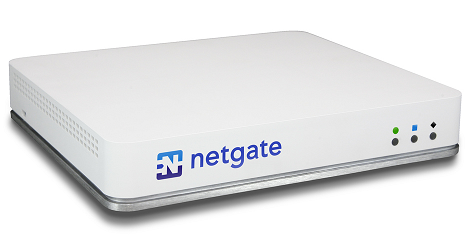 | LED Pattern | Description |
| --- | --- |
| Boot Process | The sequence, circle -> square -> diamond, quickly flashes blue. |
| Boot Completed | The diamond slowly flashes blue. |
| Update is Available | The square slowly flashes orange. |