Expansion Card Installation¶
The XG-7100 1U has a x4 PCIe expansion bus. By default, the expansion card riser and extender are not installed unless purchased separately with an expansion card.
Note
Although the PCIe expansion bus is x4, the extender can accommodate x4 or x8 expansion cards.
Some older extenders were x4 only.
Warning
Before proceeding:
Backup the configuration file.

Unplug the system for at least 60 seconds to ensure all phantom power has dissipated.

Anti-static protection must be used throughout this procedure.

Any hardware damage incurred during this procedure is not covered by the hardware warranty.
The XG-7100 PCIe Installation Kit from Netgate includes the components pictured below.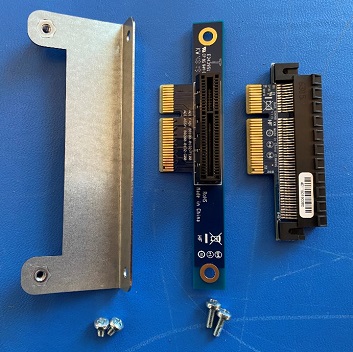 When installing an optional expansion card, first install the riser and extender using the riser mounting bracket. The instructions below are for installing an X710 expansion card, but other expansion cards are installed the same way.
Remove the seven (7) lid screws and remove the lid.

Note

Some systems may only have six (6) lid screws.

Remove the faceplate by unscrewing the 4 black faceplate screws.

Remove the L-Bracket behind the faceplate blank by unscrewing 1U Lid screw (M3x0.5 6MM Long Flat Head).

Note

Notice that the L-Bracket is behind the Faceplate Blank, locking it into place.

Remove the faceplate blank.

Using Long Board Mount Screws, attach the riser card to the mounting bracket.

Line up the riser with the connector and insert the riser into the slot.

Attach the bracket to the chassis using Short Board Mount Screws.

Line up the extender and insert it into the riser.

Warning

The connection is keyed, and the riser will only go in one way. Do not force it.

Carefully align the expansion card with the extender.

Insert the Expansion Card fully into the extender.

Place the L-Bracket behind the expansion card and screw into place using a Lid Screw.

Reattach the faceplate with 4 black faceplate screws.

Replace the lid.