Input and Output Ports¶

Front Side¶
Note
Both the WAN and LAN ports of the Netgate® appliance support auto-MDIX and are capable of utilizing either straight-through or crossover Ethernet cables.
Back Side¶
USB OTG Port

Status LED

Power
USB Ports¶
With a USB OTG adapter or cable, the USB OTG port can be used like any other USB port.
USB ports on the device can be used for a variety of purposes.
The primary use for the USB ports is to install or reinstall the operating system on the device. Beyond that, there are numerous USB devices which can expand the base functionality of the hardware, including some supported by add-on packages. For example, UPS/Battery Backups, Cellular modems, GPS units, and storage devices. Though the operating system also supports wired and wireless network devices, these are not ideal and should be avoided.
Internal Ports¶
Micro-SD card socket (minimum 1GB card recommended)
Installing a Micro-SD card¶
Remove case screw and slide off chassis lid.

Gently slide the SD card cover toward the network interface port to unlock it.

Raise the lid.

Place the Micro-SD card in the socket, contacts down.

Gently close the SD card cover.

Slide the cover toward the power connector to lock it in place.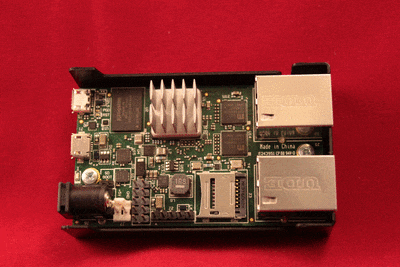 Tip
If the cover will not close gently, check the alignment of the Micro-SD card as it may not be settled completely into the socket in the correct place.