Edge Router Speaking eBGP with Static Redistribution for IPv4 And IPv6¶
Use Case¶
Especially in cases where an enterprise is multi-homed with its own block of network addresses, it may become necessary to configure dynamic routing between network service providers. This is accomplished by use of external BGP (eBGP).
In this use case, the enterprise will use TNSR to speak eBGP with two network service providers in order to exchange routes which may be redistributed from static/connected routing.
Example Scenario¶
In this example, the enterprise using TNSR will have a fictitious autonomous system number (ASN) of 65505. The network service providers in this example will have ASNs of 65510 and 65520. The enterprise using TNSR will redistribute a single /24 network from static into BGP. That network will then be advertised to each of the service providers. The service providers will announce a full routing table to the TNSR instance.
Scenario Topology¶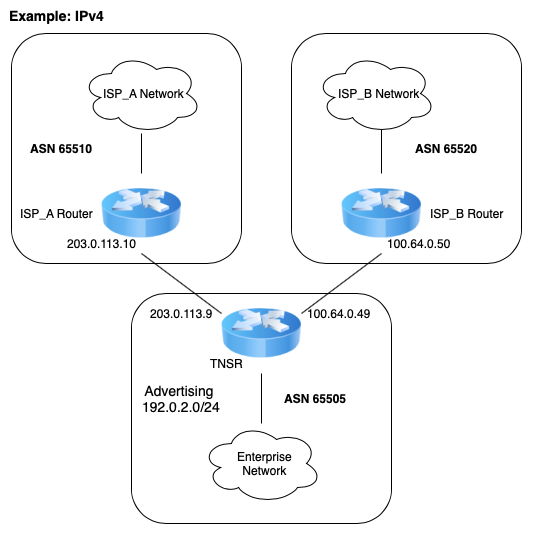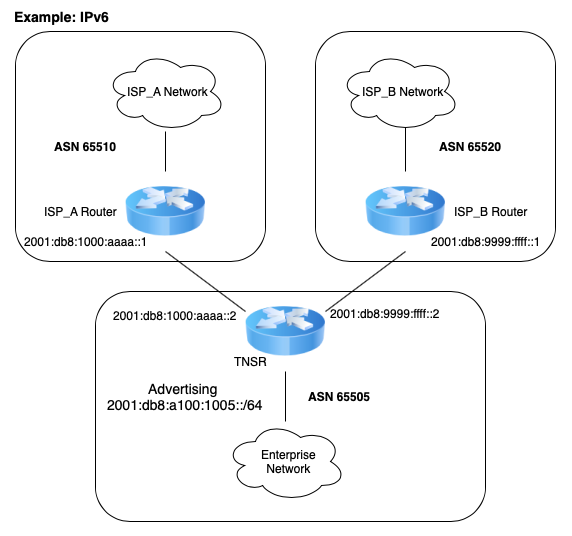 ¶

| Item | Value |
| --- | --- |
| VRF Name | default |
| TNSR Autonomous System Number | 65505 |
| ISP_A Autonomous System Number | 65510 |
| ISP_B Autonomous System Number | 65520 |
| IPv4 Network to be announced | 192.0.2.0/24 |
| IPv6 Network to be announced | 2001:db8:a100:1005::/64 |
| TNSR to ISP_A IPv4 Network Address | 203.0.113.8/30 |
| TNSR to ISP_A IPv6 Global Address | 2001:db8:fa00:ffaa::/64 |
| TNSR to ISP_B IPv4 Network Address | 100.64.0.48/30 |
| TNSR to ISP_B IPv6 Global Address | 2001:db8:fb00:ffbb::/64 |
TNSR Configuration Steps¶