Activating the Service Console for a USB Install¶
Remove power from the RCC Series unit after the installation has finished.

Remove the USB memstick that was used as the installation target and connect it to a Linux or Mac OS X host. Three partitions are on the USB memstick, but not all of them may be shown.

Open the second partition contains boot.cfg among many other files.

Note

It may not be appear as a second partition, make sure to edit the boot.cfg on the partition with files pictured in screenshot below.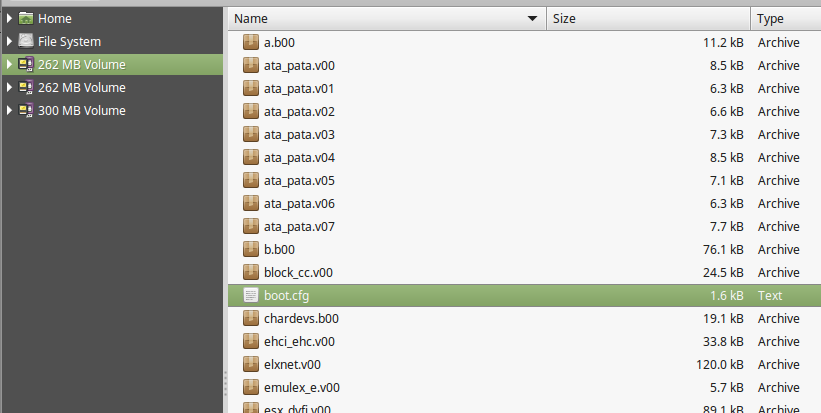 Open boot.cfg in a text editor such as CotEditor, Kate, or similar and add the following to the kernelopt line:

text

 

nofb

 

com2_baud

=

115200

 

com2_Port

=

0x2f8

 

tty2Port

=

com2

 

gdbPort

=

none

 

logPort

=

none




Save the file and eject the USB memstick.

Connect the USB memstick to the RCC Series unit and plug in the power

Wait for ESXi to boot and the console is ready for use.

ESXi is now fully installed. Login with the vSphere client to connect to ESXi.