Connecting to Console Port¶
Simple Configuration¶
Below are the simple instructions for connecting to the console port with Microsoft Windows. If these steps do not work for you or if you're an operating system other than Windows, then please skip forward to Advanced Configuration.
Serial Terminal Emulation Client¶
A serial terminal emulation program is required to access the pfSense® appliance console through the serial interface. Microsoft Windows no longer includes HyperTerminal in Versions 7 and up. PuTTY is free and can be downloaded from:
Configuring Serial Terminal Emulator¶
PuTTY must be configured to communicate with the pfSense appliance. In order to do so, you must first know what COM Port your computer has assigned to your serial port. Even if you assigned your serial port to COM1 in the BIOS, Windows may remap it to a different COM Port. To determine this, you must open Windows Device Manager and view the COM port assignment.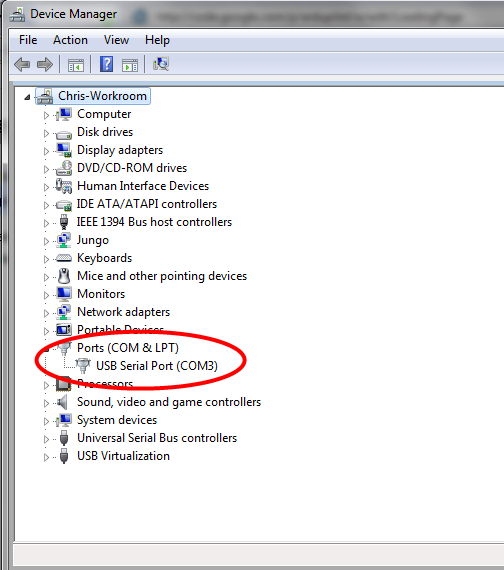 Open PuTTY and locate the Session display as shown. Set the COM Port to that which is displayed in Windows Device Manager and the Speed to 115200.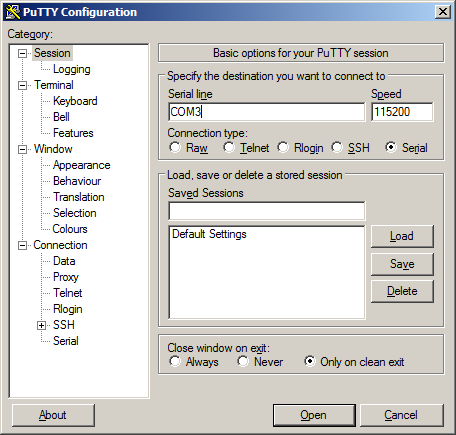 Match the COM Port with what was reported in Windows Device Manager. We will use COM3 for this example. The pfSense appliance serial port speed is 115200 bits per second. The speed of the BIOS and the speed of the console must match so change the speed in PuTTy to 115200bps.
Select Serial as shown and configure the COM Port and Serial Speed as displayed. Select Open and the conolse screen will be displayed.
Advanced Configuration¶
A Silicon Labs CP210x USB-to-UART bridge is used to provide access to the serial port that acts as a system console. This is exposed via a USB Mini-b (5-pin) port on the front of the case. There are several steps required to access the system console via this port.